Special transport is also referred to as exceptional transport or exceptional convoy. This kind of transportation involves loads that are transported by road and are wider, longer, taller, or heavier than usual. Special permits are always required.
STE (previously known as Schouten Transport) is the expert in the field of special transport. We have the necessary equipment, the correct paperwork, the required know-how, and the right people to carry out this kind of work.
Loads that are transported by special transport are, for example, silos, weighbridges, machines, shovels, harvesters, crates, reels, and basically anything you require.
Transport escort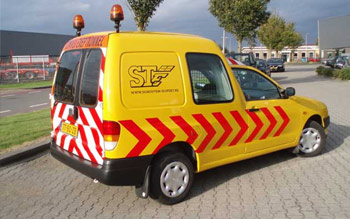 Some loads require a transport escort. In close cooperation with the driver, the escort and the driver ensure your load reaches its destination safely and damage-free.
Whether a transport escort is required depends on the dimensions of the load. We know which circumstances require an escort. Transport escorts involve vehicles that are specifically designed to warrant safety and a good flow of traffic.